Tofu Shop International is a family run business. Opening in 1982, we began manufacturing hand crafted "Nigari Tofu" on the premises, which we later named "Five Seasons Brand Tofu". Our certified "GMO free" soya beans are sourced from the Riverina (NSW), and our Nigari is sourced from South Australia. By following traditional Japanese hand crafting techniques, we are able to produce you tofu which is superior in flavour and texture.
In the shop's beginnings, some of you may remember us offering an extensive range of true health food products, supplements and wholefoods, and our original "Soyvlaki", complete with bread cooked fresh on the hotplate.
Each day our unrestrained chefs love to create all kinds of taste sensations for you, using innovative combinations of seasonal ingredients. They freshly prepare a new, adventurous "menu" that reflects your growing tastes for healthy eating. We offer various serving sizes to eat in or take away, using the highest quality ingredients. Many of these "menus" are so original they have never been repeated, and other old favourites such as Chilli Jam Tofu may appear daily. We created a soft serve soy ice-cream we believe to be second to none in this country. And our tofu cakes remain a unique, delicious healthy dessert, available since our beginnings.
We hope this is the food you like to eat, and attempt to offer you an unrestricted choice of your own when you order. Our large eat in plate with the lot has been created for you and a friend to share. Or we can create a surprise choice for you.
Over the years we have renovated our interiors and refined service style. We have seen food sensitivities, health issues and dietary directions grow and change over the past 28 years, so please order carefully to suit your requirements.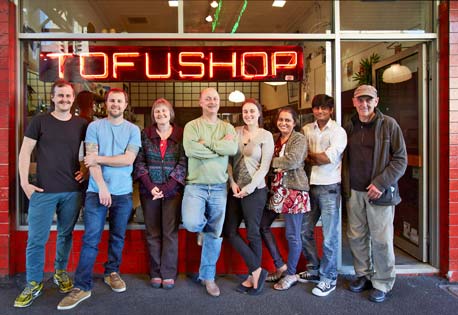 At the Tofu Shop we have always been committed to the environment; we recycle all our glass, plastic, metal, cardboard and paper as well as composting all our organic waste. We do this at our own expense and with the help of many enthusiastic environmentalists. We hope to continue this practice. Also, in recent years we have changed our cleaning products to varieties that are made of a natural colloidal mineral solution. This means we are not putting harsh chemicals down the drain or contaminating our foods.
Tofu Shop International welcomes our many overseas and interstate customers and thanks our long term locals who keep us grinding beans. And thanks to your support, we are continuously creating and extending our vegetarian/soy foods menu, hoping to amaze you again and again.